Asked by Tank how he is what he is going to need in his upcoming mission, Neo replies that he needs weapons. Lots of Weapons. As the racks of guns come zooming out of the blank white space of the empty program, it is evident that Neo's available choice is endless. (He then just picks the three closest guns to hand without considering magazine capacity or suitability for the job). Norwich were in a similar situation this summer, with so many potential weapons to choose from.
Last Season was an odd one for Norwich. Chris Hughton's Norwich team were tough to play at home last season
winning 31 points
but relegation candidates away, only managing to accrue 13 points in their 19 away games. This 18 point differential was the third largest in the Premier league behind only West Ham and Everton. Interestingly all three of these teams play a version off 4-4-2 which suggests that whilst being aggressive at home and committing men forward was a successful strategy for them, it was a real negative away from home as it invited pressure onto the defence and left them a defender short.
Luckily for Norwich then, the strength of the team was the defence. This may not seem the case with Norwich having conceded 58 goals last season but Norwich's defensive stats were deceptively bad due to the number of times they got thrashed. 6 times Norwich conceded 4 0r more goals in a match, accounting for 27 of the 58 they conceded in total. This means that they only conceded 31 in their remaining 32 games, definitely few enough to remain in contention in all of those games.
This solid defense was predicated on the strong and combative performances of Sebastian Bassong, Michael Turner, Javier Garrido and Russell Martin. The 'Leeds connection' midfield trio of Jonny Howson, Bradley Johnson and Robert Snodgrass gave tireless and committed displays, up and own like yo-yo's. Snodgrass and Anthony Pilkington, the other wide man in Hughton's strict 4-4-2, both had excellent seasons going forward, Snodgrass providing 6 goals and 6 assists with Pilkington getting 5 goals and 3 assists.
The problems for Hughton started and finished in the final third last season. Target man Grant Holt, slowly ossifying as he became ever more static, was still the top scorer with 8 league goals and a wide variety of other striking options all contributed with a couple of goals each bringing their final tally to 41 in all. When your Bassong is your fourth highest scorer with 3, you have serious problems. Like Neo, Hughton needed some firepower.
Can anyone explain to me why only half his hair has
started going grey?
Hughton has spent some serious money on a new little and large combo in an attempt to rectify this. Gary Hooper has recently signed for £5.5m from Celtic. A natural finisher, Hooper is a diminutive striker in the mold of Michael Owen. Though not as quick as Owen, Hooper's instinct for goal and his intelligent movement in the box made him the top scorer in the Scottish Premiership last season. Striker Ricky Van Wolfswinkel (owner of European football's second best name after Jan Venegoor of Hesselink) signed from Sporting Lisbon for a club record transfer fee of £8m. Van Wolfswinkel (the Wolf) scored 45 goals in 88 appearances in Portugal, an excellent strike rate.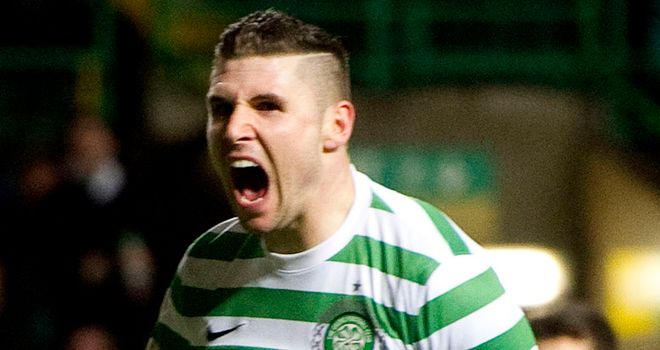 I am sure that he is engaging in a philosophical debate
on the nature of existence, a subject that Norwich fan
Stephen Fry would appreciate, rather than just abusing
someone for cutting off the hair on the side of his head...
It could be argued that the Portuguese and Scottish leagues are not as tough as the Premier League and that their performances there are no indicator of success in the Premier League. Accepting the validity of that argument as I do, I would counter it with a few factors lead me to think that both Hooper and the Wolf will adapt well to the premier league. In Hooper's case the sheer weight of goals throughout his career suggest that he is a natural finisher. This is a valuable skill in the Premier League as many of the opportunities he will get will be half chances at best. For a penalty box striker Hooper is a good link up player as his low centre of gravity and strong legs allow him to hold up the ball and bring other players into the game. These attributes should allow him to thrive in the physicality of the Premiership.
YES! My career goals are complete! I am playing
for Alan Partridge! AH HA!
By contrast the Wolf is a Dutch striker who likes to lead the line. This type of player has traditionally done very well in the Premier League with Jimmy Floyd Hasselbaink, Ruud Van Nistelrooy and Robin Van Persie all springing to mind suggesting that the Wolf won't have to adapt his game too much. Secondly, the Wolf's performances in European competition, often a more accurate assessor of talent and performance level, have been great scoring 17 goals in 32 matches. It would be foolish to think that both of these players will score in the volume and quantity they were used to before, but if they were able to score between 25-30 goals between them
this season
it would substantially increase their chances of top 10 finish.
Whether they can manage 25-30 goals will be as much down to their supply as it will be their own talents. To adapt the old Shaun Goater chant, If nobody feeds the Wolf, how will he score? As previously noted Snodgrass and Pilkington had excellent seasons in the wide areas but both are very similar players. Neither has exceptional pace to go past defenders, instead relying on trickery and technical skill to create chances. This led to an over reliance on set pieces, with 18 of their 41 goals coming from dead ball situations. Nathan Redmond, the youngest player ever to play for Birmingham and the only player to come out of England U21's tournament debacle in Israel with any credit, has been signed to provide that pace. Hughton will be looking for him to have a similar impact that Raheem Stirling had for Liverpool last season. In central midfield new signing Leroy Fer, nicknamed the Bouncer, will play a physical holding role allowing other midfielders to attack with more freedom than last season. My prediction for this team is a top ten finish. Hughton has his guns; can he make them fire?