A pulsating first test and the flaws in DRS.
As a massive cricket fan this weeks viewing has been dominated by the first Test of the Ashes. It wasn't always cricket of the highest quality but, in terms of drama, entertainment and tension, it was one of the great test matches of all time, and in the outstanding debut performance of Ashton Agar, it had a story line that would have been thrown out of a Hollywood studio for being less believable than Sharknado. It had everything you could want in a cricket match; from records being broken, to devastating bowling and belligerent batting, from dodgy umpiring and outraged controversy to the arrival of a star in the making.
Ashton Agar's performance was incredible. To perform that well from number 11 was outrageous, to do it on debut was inconceivable. The audacity and nervelessness displayed were hallmarks of youth. His shot selection and judgement of length an indicator of serious talent. Never before has an English crowd wanted an Aussie to score a century but there were groans of disappointment when he was caught on the boundary for 98. His was the highest score by a No.11 in the history of Test cricket and it was part of the highest ever tenth wicket partnership in Test cricket, ably supported by Phil Hughes. Agar also had the skill to take a couple of wickets including the England captain, Alistair Cook. A great start for a great talent.
The world's best?
His performance was only topped by the brilliance of England's best player, Jimmy Anderson. 10 wickets in the match on a pitch designed to suit the spin of Graeme Swann does not quite tell the full story. The 13 over spell to win England the game on the fifth morning was nothing short of heroic, his abilities highlighted by the ease with which Australia scored off England's other bowlers. Special mention must also go to the high quality performances of Peter Siddle and Ian Bell, both players who have previously been much maligned in the media. Siddle is commonly dismissed as an 'honest trier,' completely overlooking his accuracy and skill. After his 8 wickets in the match, maybe a little more analysis will be applied to his skill and a little less on his effort. By contrast Bell is often criticised for only scoring stylish but easy runs against poor sides. His gritty and determined century in the second innings put England in a position to win the game.
It was without doubt a brilliant match, full of the unexpected, and, when I was watching on TV, it was brought to me by Sky.

[1]
It is an accepted wisdom that TV has influenced all sport in thousands of ways since its arrival but in none is that influence so marked as in cricket. Since they took over the summer Test matches from Channel 4 in 2005, Sky has had a TV monopoly on English cricket. As in many sports, fixtures are now timed for maximum TV viewing rather than the enjoyment of fans actually attending the match. Cricket tours are shorter, (why play warm up matches for the benefit of quality Test cricket when you can play another lucrative and pointless T20 match?) and often played at ridiculous times of the year to fulfill the contractually obliged quotas demanded by Sky, (why else would you choose to play Test matches in the rain of April and May?)
Nerdy types, otherwise known as physicists, have long postulated that in quantum mechanics the nature of something changes when it is observed.

[2]

Cricket has certainly changed since the advent of Sky's coverage.

Technology such as Hawkeye and Hotspot that were originally introduced by Channel 4 and Sky for viewer enjoyment have now been incorporated by cricket in DRS (decision review system).

Specifically designed to reduce controversy by getting more decisions correct, it would be reasonable to argue that in this Test the DRS has caused the controversy.
The technical issues all started with the dismissal of Joe Root in England's second innings. Joe Root was strangled down the leg side with ball seeming to lightly brush his bat. After chatting with Alistair Cook, Root decided not to review the decision and walked off. This brought Jonathon Trott to the crease and he was promptly given out LBW first ball to Mitchell Starc. Trott decided to use the DRS and review the decision. All the front-on camera angles appeared to be inconclusive as to whether he had hit the ball. The crucial angle would the side-on hotspot camera. Unfortunately there was no footage from that camera as it was being rewound at the time to show that they couldn't find any evidence of Joe Root hitting the ball and that if he had reviewed, the decision would have been overturned and he would of stayed in. As the Hotspot camera and machine work in a similar way to an old VHS, it cannot both record live footage and rewind at the same time.

[3]

Without Hotspot to save him Trott was confirmed out.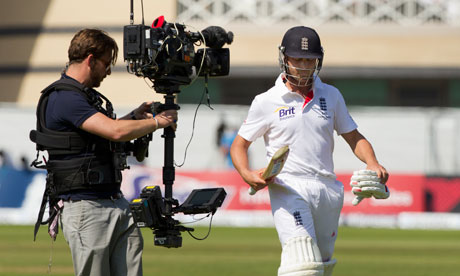 This incident shows more than a few flaws within the DRS system. The first problem was when Joe Root walked off. It is widely acknowledged by former players of the game that 'you know when you have hit it.' If Joe Root had not hit it he would certainly have reviewed the decision immediately. That suggests that he knew that he had hit the ball thus explaining why he walked. So why didn't the Hotspot camera show the nick? This should put serious doubt on Hotspot's ability to detect faint edges, thus rendering it almost useless as a part of the DRS.
A secondary problem is that the laws of cricket give the benefit of the doubt to the batsman. Without the Hotspot camera in his review, Trott was denied that benefit. Instead the 3rd Umpire confirmed up the original decision of the umpire and gave him out. This brought two separate laws into conflict with each other, an obvious problem. Trott was rightly furious that he had not had all of the DRS at his disposal and controversy reigned.
In England's second innings Ian Bell and Stuart Broad put on a major partnership that would give England a commanding lead. Australia had wasted their reviews on two dubious LBW shouts earlier in the innings and were therefore out of reviews. This turned out to be crucial when Broad blatantly edged Agar to Michael Clarke at slip. How the umpire missed it is beyond my comprehension, but miss it he did. Whether Broad should have walked is another argument but it brought into focus two problems; the reliability of the Hotspot Camera and

whether two reviews is enough or too many. Once again Hotspot had failed to spot an edge behind and if Root's had been a faint nick, Broad's was a fat edge. Though the decision couldn't be reviewed, a riot would have ensued if he had been given out and it had been overturned on DRS due to the evidence of Hotspot.
Originally the system was brought in do away with howlers such as this. Some, including the BBC's cricket correspondent Jonathan Agnew, argue that by giving teams two reviews, it encouraged teams to gamble with them rather than saving them for overturning obviously bad calls. Others argue that Australia should have had more reviews to use and this would have prevented the controversy from occurring. Both theories have their merit so whilst there is no consensus this flawed system will remain unchanged.
Rev counter is... IN THE RED!
Sky's newest gizmo, the Rev Counter, which debuted in this match appears to be totally pointless except as a way to elicit thoughtless commentary

from the FECRC (Former England Captain's Retirement Committee) when it poops up on the screen.

[4]

Such delights included constant exhortations of "Its in the red!" and Andrew Strauss ridiculously questioning whether Graeme Swann would forget about bowling normally and try to just spin the ball as much as possible in competition with himself. In all, I am pretty sure this adds nothing to the game and Sky may have agreed with me as, by the end of the match, the rev counter graphic was half the size it had started at.
Without any doubt there are definite problems with the DRS system as it stands. Though flawed its defenders correctly argue that more decisions are now being given correctly. Its critics counter by pointing out its deficiencies. In the end it will all come down to viewer entertainment and it is hard to argue that Hotspot and Hawkeye, despite their flaws, do not enhance the viewing experience. The very act of observing cricket through the medium of Sky has changed the game. In itself this is not a worry as sports evolve all the time. The worrying thing is that it's now changed the game to such an extent that it's affecting the outcome of the game.
---