I originally wrote a long piece on Murray's victory in the Wimbledon final from the perspective that some people may not have known what happened in it. This was, in hindsight, rather naïve.

Given that everybody saw it, has read about it and/or heard about it from the screaming maniacs who gathered to watch proceedings on Henman Hill, I thought I would share a few thoughts about the match.
Thousands of people in London who don't own a tv.
On the morning of the match between Novak Djokovic and Andy Murray, news reports surfaced of the thousands who were desperate to get on to Murray Mound/Henman Hill. Hundreds had been waiting all night, camping in a traditional British queue for the chance to sit on a grassy hillock and watch a big screen of the match. It was announced that at 10.30 the gates would be allowed open. Hours were spent waiting, then a rush, a spasm of action, a seat on the hill was taken and then the waiting began again. What is a few more hours waiting if you have been waiting for 77 years?
This seems a perfect analogy of a British fan's tennis year; the yearlong wait followed by a momentary fortnight of hope and desire, followed again by disappointment and a return to the long wait. Thematically this year's championship challenge by Andy Murray has been framed in terms of the 77-year wait for a British winner. The media, especially the BBC, have found innumerable ways to illustrate how long ago 77 years really is, (my favorite was that when Fred Perry won Wimbledon, tennis was played in trousers rather shorts.) What the media has failed to highlight is the weight of the pressure that the wait brings with it.
For the many previous British challengers the pressure to end the wait has always been too much. The famous, odd couple duo of Tim Henman and Greg Rusedski were able to use the crowd for inspiration early in the tournament but were never able to overcome the very best in the latter stages. Henman was a four-time semi finalist, which suggests he was good enough to have won at least once. Rusedski had a perfect grass court game and made the US Open final in 1997. The support carried them to begin with but once it turned into expectation the weight of it crushed them.
This face doesn't change. At all.
To find a way to shoulder the burden of expectation, Murray hired Ivan Lendl to help him. Lendl is stony faced, a picture of stoicism and determination, a man hewn from rock. He also won eight Grand Slam titles. He wasn't hired to coach Murray how to play, he was hired to coach him how to win. To do that Murray would have to overcome the athletic, grinding style of the world number one, Novak Djokovic.
It is almost certain that Djokovic tried to make Murray feel as much pressure as he could. Murray had crumbled under pressure before in Grand Slam finals, notably not winning a set until his 4th Grand Slam final. Murray would, Djokovic hoped, do so again under the expectations of a nation at Wimbledon. Djokovic would attack Murray's weakness and exposed his second serve. Unable to consistently hold serve, Djokovic hoped it would culminate in the oft seen cycle of self-recrimination and frustration that can destroy Murray's mental stability when things don't go his way.
Djokovic implemented his plan, breaking Murray to love in the 4th game of the match and squeezing the life out of Murray's second serve. Djokovic won 58% of the points played on Murray's second serve and broke him 4 times in the match. Murray could have cracked under such pressure but the mental toughness that he and his coaching team have worked on came through. The scars of the previous Grand Slam final defeats seemed well and truly healed.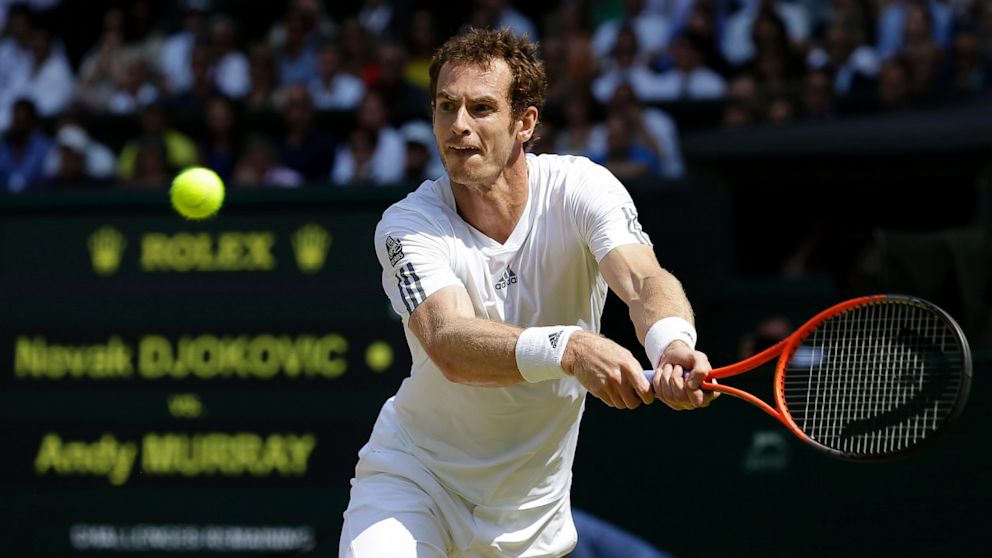 Often accused of being passive in the crucial moments, Murray was brilliant in them, often outplaying Djokovic at the crucial moments. Murray took 7 of his break point opportunities (one more break than Djokovic had suffered in the entire tournament up until that point), hit more winners than Djokovic (36-30) whilst committing only half the unforced errors (21-40). In a brilliant all round display of tennis, the most impressive aspect was his calm under pressure.
Djokovic was not at his best in this match due in large part to his epic semi final showdown with Juan Martin Del Potro. The longest semi final in Wimbledon history really took a lot out of the Serb's legs and he did not have the stamina and athleticism that we usually associate with him. Djokovic attempted to alleviate the pain of the long rallies by attacking the net or attempting drop shots but neither strategy tended to work. As the finish line came into sight though, the pressure rose with the expectation of the crowd and smalls cracks began to appear. Murray was up a break in the third and just needed to serve out. Up 40-0 in quick time it seemed nothing could be easier…
As is often the case when the pressure rises, time seemed to slow to a crawl. Each point from then on was an eternity, the quality of both players such that they both seemed to have an age to pick their strokes. With the heart of a champion Djokovic saved all 3 Championship points as the pressure threatened to overwhelm Murray. Even in victory the crowd was forced to wait. In a brilliant display of defensive tennis under extreme pressure, Murray then fought off 3 break points as Djokovic threw everything he had at Murray. It wasn't enough. As Djokovic netted, Murray celebrated in the manner of a man who's had a colossal weight lifted from his shoulders, arms aloft.
Murray Celebrates.
Aiming much of his celebratory fist pumps towards the press box,

a group he has always feared fuelled the pressure and the expectation, Murray had done it.
"It's hard. It's really hard. You know, for the last four or five years, it's been very, very tough, very stressful," Murray said. "It's just kind of everywhere you go. It's so hard to avoid everything because of how big this event is, but also because of the history and no Brit having won."
In his post match interview Djokovic was, as ever, gracious in defeat, only stopping to bemoan that, "I wasn't patient enough.' There's that word again, patience. The British have needed plenty of it over the years when comes to Wimbledon. Now, thanks to Murray, the wait is over.